Switching to e-mobility
Facts instead of preconceptions

Electric mobility will change our lives.  Many things will become easier, smarter, and more sustainable. Nonetheless, some misconceptions still exist. But most of them are outdated and no longer valid. This is also a result of the enormous technological progress that has been made in the meanwhile. Here, we would like to present the biggest preconceptions about electric mobility. And debunk them with facts, so that it becomes easy to see: The future of mobility is electric.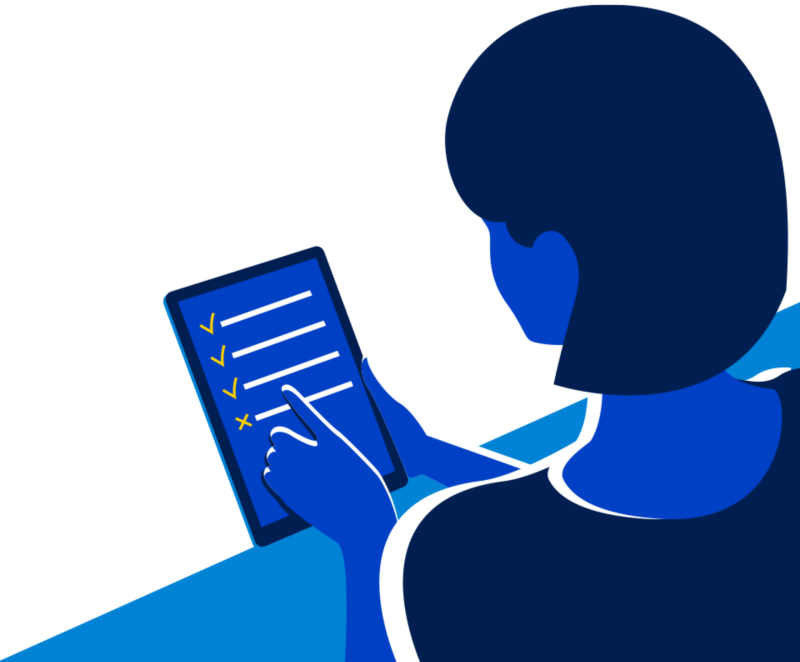 What happens if I end up with an empty battery?

Your electric vehicle warns you in time.

Normally – if you take note of the warnings – you shouldn't end up with an empty battery in your electric car, as it lets you know in good time when the electricity storage is almost empty. The vehicle also switches automatically to energy-saving mode. In addition, the network of charging stations will grow exponentially in the next one or two years, and your navigation system will always conveniently guide you to the nearest charging station. By the way, as a driver of an electric vehicle you can also make use of the Volkswagen breakdown service on the breakdown assistance number 0800 VWSERVICE or 0800 897 378 423.
The battery doesn't last long.

It does, and you will be surprised how long.

How long the battery of your electric car lasts depends on how often it is charged and discharged. By the way, Volkswagen guarantees you that the battery will not drop below a minimum of 70% of the useable capacity value after eight years or 160,000 km – whichever comes first.
At rapid-charging points your battery is of course particularly quickly charged.

How long your electric car needs to charge fully depends on the charging station. At home with a wallbox you can charge your electric car with 11 kW every night1. At the public rapid-charging stations from IONITY, your battery charges even faster thanks to the higher charging performance. 
Electric cars are expensive.

Quite the opposite – thanks to purchase incentives and tax benefits.

Electric cars are still considered to be cost-intensive. It is true that the purchase price is currently somewhat higher than that of a comparable petrol or diesel car. The reason for this is the higher manufacturing costs of the battery. However, purchase incentives, tax benefits and lower consumption costs, as well as the less maintenance-intensive technology of electric vehicles, quickly even out the additional costs in part or in full (in Germany generally in part, in some other countries quickly in full). 
Electric cars do not have a long range.

One of the most common preconceptions is that you can't drive far with an electric car. But that has long since been left behind, because the range of the new electric cars in the ID. family based on the Modular Electrification Toolkit (German – MEB) is much greater than you might think. With the new electric vehicles, ranges of around 330 to more than 550 km are possible in the WLTP2 – depending on the battery size, tyres and body style of the vehicle in question. 
Elektroautos haben keine große Reichweite.
Eines der häufigsten Vorurteile ist, dass man mit einem Elektrofahrzeug nicht weit fahren kann. Dabei ist das längst überholt. Denn die Reichweiten der neuen Elektroautos der ID. Familie auf Basis des Modularen E-Antriebsbaukastens (MEB) sind viel höher als gedacht. Mit den neuen Elektrofahrzeugen sind Reichweiten von ca. 330 bis über 550 km im WLTP realisierbar – abhängig von Batteriegröße, Bereifung und Bodystyle des jeweiligen Fahrzeugs. 
Charging an electric car is dangerous.

Your electric car is safe, even with rain and moisture.

As children, we are taught that electricity is dangerous. Especially in combination with water. Nevertheless, there is nothing to worry about when charging an electric car in the rain, for example. This is because, as long as the battery and charging station meet standards, no electricity flows until a secure contact has been established. You can also drive through a car wash or open the bonnet when it's raining without problems. Your electric car is also as safe as any other during thunder and lightning storms.
Electric cars are boring.

Electric cars are more fun to drive than you might think.

The powerful electric motors offer full torque right from the start - without interruption of traction - and push you forward in breathtaking dynamics. In addition, the batteries are integrated into the vehicle floor, ensuring a low centre of gravity and optimum weight distribution. The result: pure driving pleasure with a go-kart feeling. Everything but boring.
Charging an electric car at home is quite complicated.

You only need a charging cable and a connection to electricity.

The easiest way to start the day with a fully charged electric car is to have a charging station on your doorstep. That is not only an option for homeowners, but also for the garages of blocks of flats. You can install a Wallbox there, and then all you need is the charging cable to connect to your electric car. Of course, you can also use the cable provided for charging. That takes a bit longer, but is just as simple.
There are too few charging stations.

You can refuel electricity almost anywhere.

Ideally, you should always charge your electric vehicle overnight at home using your Wallbox. That way, you can get into your charged car in the morning and start the day full of energy. Coverage across Germany is also being developed and public charging stations are growing exponentially. 
When you are on the go in the city, for example, you can already find numerous charging options in car parks, in front of shops and in shopping centres. In addition, more and more employers are offering their employees the opportunity to charge their vehicles at company charging stations. 
Convenient refuelling of electricity will also be possible on long journeys. IONITY, the joint venture of the German automotive industry and Ford, along with many other providers and energy companies, is building up a dense network of rapid-charging stations on motorways and major transport routes all over Europe. In this context, in Europe alone, the intention is to provide several hundred IONITY charging parks by the end of 2019.