1
Car-Net online services for your mobile day-to-day

You can stay up-to-date with mobile online services from Car-Net – as many older Volkswagen models prior to model year 2021 are Car-Net ready as standard. Discover Car-Net's connectivity services now. 1
Your destination displayed almost in real-time

Stay better informed on the road with Car-Net's "Guide & Inform" services. If you're looking for exciting destinations nearby, you can get up-to-date traffic information right from the internet, and much, much more.
This is how you activate and use Car-Net

Find out how to activate your mobile online services via the We Connect app here – and what you need to do it.
Which services are available?
Is your Volkswagen model equipped with We Connect or Car-Net? Or can it be retrofitted with We Connect Go? Here is a first look, with no obligations, at which mobile online services are available in the vehicle model of your choice.
Practical services for your day-to-day

Good to know there's always someone there: With the optional Emergency Call Service, you can reach the Volkswagen emergency call centre around the clock, simply by pressing the red SOS button. In accidents where the airbag is deployed, a call for help will be triggered automatically.
Packages, contract periods, prices & prerequisites

The service packages and licences listed below can be conveniently extended online in the We Connect web shop.
Guide & Inform Basic2), 3)

Guide & Inform Plus2), 3)

Security & Service Plus2), 3) inc. e-Manager 1)

Free initial contract period

unlimited for a one-time payment from €269 inc. VAT

Extend by 1 year
(Prices inc. VAT)

Extend by 2 years
(Prices inc. VAT)

Composition Media, Ready 2 Discover, Discover Media or Discover Pro
Free initial contract period
Extend by 1 year
(Prices inc. VAT)
Extend by 2 years
(Prices inc. VAT)
The diagram illustrates the current sales programme.
1) e-Manager only available for e-vehicles & plug-in hybrids
2) The following applies for new vehicles: if the Customer fails to place the order within 90 days of taking delivery of the vehicle ("Initial Order Period"), the free service period is reduced by the number of days between the end of the Initial Order Period and the actual order date.
3) Exception: duration of three years, in conjunction with 'Business Premium' data plan
4) Value in brackets applies to plug-in hybrids.
5) Applies to the data connection between the vehicle and Volkswagen AG data server. The data connection between the customer's end device and the data server when using mobile online services through the myVolkswagen (https://www.myvolkswagen.net) user area or the We Connect app is not a part of the services provided by Volkswagen AG.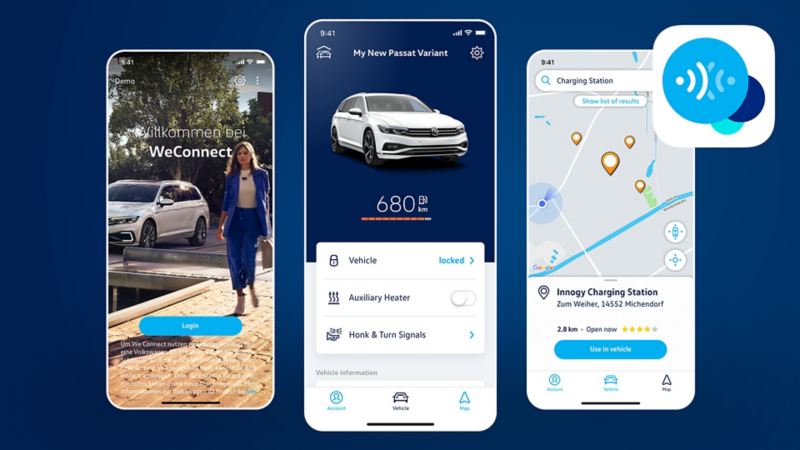 Use Car-Net with the We Connect app now
With the We connect app, you've got all the Car-Net mobile online services on your smartphone. And all the benefits in one app. Simply download the We Connect app for your smartphone operating system and connect it to your Volkswagen.