With our

Volkswagen

Parts you'll always make the right choice

High quality and perfect fit: With our

Volkswagen

Genuine Parts®, your car will stay 100% original, even following repairs or maintenance.
Economy Parts
Do you drive a car that is more than four years old? Our Economy range comprises common maintenance and wear parts. Volkswagen Economy Parts are the economical repair solution.
Classic Parts
Quality goes further for longer: In the Classic Part range you'll find replacement parts for older and classic Volkswagen. So your car stays in top condition, whatever its age.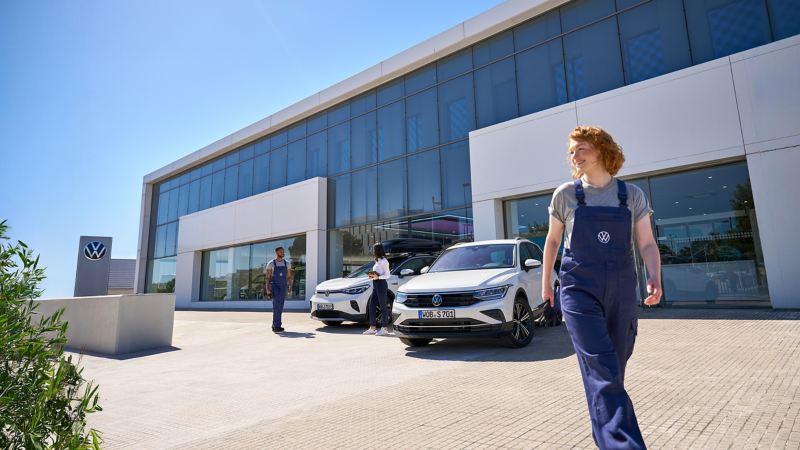 Exchange Parts
Recycle your used parts with us and you'll receive genuine Exchange Parts. With our reconditioned parts, you'll save up to 40%.
Body and paintwork
Volkswagen Genuine Body Parts are the building blocks of your vehicle, protecting both you and other passengers against environmental influences and in the event of an accident. To make sure your Volkswagen looks as good as new, even after a scratch, our genuine paint will give it a brand-new shine.
Glass, light and visibility
With our Genuine Parts, we make sure you have a great view. When out on the road, to see and be seen is vital. With Volkswagen Genuine Glass, Wiper Blades and Lights, you'll see everything clearly.
Energy for your
Volkswagen
Whether it's a Tiguan 1, Golf 5, Passat B6 or B7: Our starter battery delivers exactly the right amount of energy your model needs. For everything that makes your drive more comfortable, from starting the engine, the start/stop system to auxiliary heating and radio. Available for all Volkswagen models.

So your brakes won't fail you, even in dangerous and unexpected situations

Designed for your
Volkswagen
Our brakes interact with your brake system. For quality that goes beyond the statutory braking standard, ECE-R90.
Volkswagen

Genuine Brakes

Our brakes are adjusted according to engine performance, vehicle weight and your model's maximum speed. Your advantages: Long service life and braking comfort with minimum wear.

Your benefits
Safer:
Thanks to shorter braking distances.

The perfect fit:
Developed for your

Volkswagen

and tailored to its weight, performance and maximum speed.


Greater endurance:
Confirmed in complex practical tests under a wide variety of weather conditions and with up to 1,000 consecutive hard brakes on the test bench.
The engine is the beating heart of your vehicle

Genuine toothed belts and spark plugs – so your
Volkswagen

runs even more smoothly

Engines want a toothed belt that is made of solid material. It can transfer forces for longer and is flexible enough to adjust itself and keep tension at a constant. What about spark plugs? We ensure that they ignite reliably; that they ensure optimal combustion and don't overheat, thereby guaranteeing smooth engine operation and lower consumption.
Genuine engine
Avoid damages to the engine caused by material mixes with third-party products and use only tried-and-tested quality. Whether it's spark plugs, a toothed belt, lubricant or coolant additive – engines and gearboxes are always happy to receive Genuine Parts.
Your benefits
The toothed belt is robust and dimensionally stable:
Thanks to glass and synthetic fibres, and abrasion-resistant coating.


The spark plugs ensure greater convenience and lower consumption:
Thanks to very smooth running and precise placement of the spark in the combustion chamber.

The perfect fit:
Our Genuine Parts are specially developed for your

Volkswagen

engine.
Your

Volkswagen

toothed belt: FAQs
If you really want to learn about the genuine toothed belt, we recommend our FAQs.
Your

Volkswagen

spark plugs: FAQs
Do you still have some unanswered questions about spark plugs? No problem, you'll find the right answer here!
Our filters protect you against dirt, harmful substances and contaminants
Guarantee safety and well-being
Hot and cold weather or at high air speeds: The filters in your Volkswagen have to be able to filter harmful substances and dirt, even under the most challenging conditions.