1
The whole world of Car-Net in your Touareg

The whole world of Car-Net in your Touareg

Fully connected. The Touareg.

The internet and digital networking have become a part of our day-to-day, so why should you have to do without when you're in your car? That's why Car-Net's mobile online services are included in the Touareg – they're available as soon as you activate them and have been brought to a whole new level: maximum connectivity.
Glide smoothly through your day-to-day

Car-Net keeps you better informed, faster. Enjoy a stress-free drive when you take a route that is adapted to the current traffic conditions, and arrive relaxed. During your drive, if you so desire, you can have the news read to you or use the Internet Radio to listen to your favourite radio station, even when you're out of the broadcast area, and then, when you reach your destination, you can save time by being directed straight to an empty spot in a car park or to an official parking lot.
If you're looking for exciting destinations nearby, you can get up-to-date traffic information right from the internet, and much, much more. In the exclusive "Guide & Inform Premium" package for the Touareg, the new Internet and hybrid radio services introduce unlimited entertainment to the vehicle.  Thanks to the Online Route Calculation, 3D City Maps in selected cities, Satellite Maps and incremental online map updates, navigation has become more intelligent and easier to use. Not only can you display current news, you can also have it read to you in the comfort of your vehicle.
No matter where you are, you no longer have to miss out on your favourite radio programmes and podcasts thanks to the Internet Radio. If you are using a conventional radio to listen to a station and you leave the broadcast area, the Hybrid Radio function will automatically switch from land-based reception to internet streaming. Your favourite radio programme will continue to play without a hitch.
To enjoy the Internet Radio and Hybrid Radio services, you need to use your own data connection.
Be more at ease on the road with "Security & Service". This Car-Net service package offers mobile access to important vehicle functions and connects flexibility and transparency, increasing your comfort level. Whether you need Service Scheduling, Breakdown Call or an Online Anti-Theft Alarm: Your personal services support you in almost any situation and provide you with essential information regarding your mobility.
The "Emergency Call Service" helps you in an emergency situation. In serious accidents, for instance, where airbags are activated, help is called automatically. If your Volkswagen registers an accident, the service will establish a connection to the Volkswagen emergency call centre and transmit important information to the first responders. You can also call for help manually at the touch of a button. 
Keep an eye on your Touareg from anywhere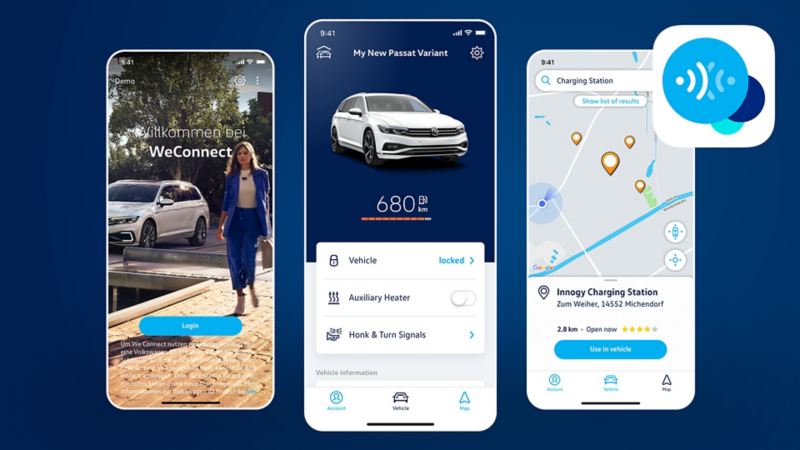 We Connect app download
Connect to your Touareg: enjoy all the benefits of Car-Net in one app.